Ragnarok 2
root
Ragnarok 2, Modular, Remote-Control Integrated Amp Features Unique Differential Nexus™ Topology
June 13, 2019, Valencia, CA. Schiit announced the immediate availability of Ragnarok 2, a unique, modular, remote-control integrated amplifier designed for both headphones and speakers. Featuring Schiit's unique, current-feedback differential Nexus™ topology, Ragnarok 2 seamlessly handles all sources and transducers, both balanced and single-ended, without conversion. Rated at 60W RMS into 8 ohms and 100W RMS into 4 ohms, Ragnarok 2 is an excellent match with most speakers. It also delivers 24W at 32 ohms to the balanced headphone output and 6W to the single-ended headphone output, making it one of the most powerful headphone amps on the market.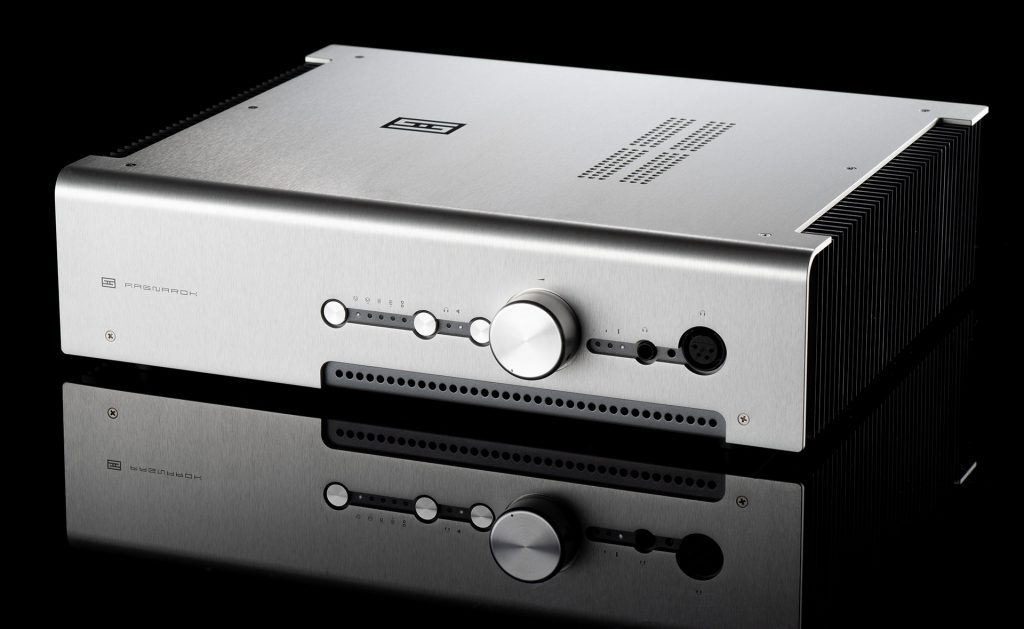 "This is a huge step forward," said Jason Stoddard, Schiit's Co-Founder. "Leaving aside the topology techno-talk, Ragnarok 2 adds performance, flexibility, and convenience when compared to the original Ragnarok—at a lower cost. Now, Ragnarok 2 comes standard with remote control, rather than no remote. It has a 128-step relay attenuator, rather than 64. It has a modular design that allows you to get it as just an amp, or load it up with a phono preamp and Multibit DAC. It allows you to select three gain levels and headphone and speaker outputs with the remote. It takes balanced and single-ended input and delivers balanced and single-ended output, without conversion on either side."
Ragnarok 2 is the result of a long-term R&D project at Schiit Audio to create the "holy grail gain stage," a discrete, current-feedback gain stage that can accept either balanced or single-ended input, and deliver both balanced or single-ended input. The result, Nexus™, was prototyped in 25+ different iterations before joining up with Ragnarok 2 for its introduction.
"Nexus is a complex implementation," said Jason Stoddard. "It requires precisely matched SOT-23 JFET transistors, and matched bipolars throughout the rest of the stage, as well as an operational point servo to balance its operation on a knife-edge. As far as we know, this is a unique differential stage, in that it does not exhibit the typical N/N+1 gain structure, and it provides two high-impedance input terminals for both phases."
Ragnarok 2 is intended to be used as both a speaker and headphone amplifier, with three levels of gain (1, 8, and 25), and independently switchable headphone and speaker outputs. It delivers full power to the balanced speaker output, and about 1/4 full power to the single-ended headphone output.
Like all Schiit power amplifiers, Ragnarok 2 uses a completely linear power supply, and includes a 600VA shielded transformer and over 132,000uF of filter capacitance. Its output stage operates in Class AB, with about 1W of Class A bias.
Ragnarok 2 is designed to be a single-box solution for all audio needs for many people when ordered "Fully Loaded." This configuration includes a MM phono preamp and a Multibit DAC card, for phono and USB digital sources, as well as one single-ended RCA input and two XLR balanced inputs. Fully Loaded, a Ragnarok 2 is euro 1949.
Ragnarok 2 can also be ordered as "Just An Amp," which offers two RCA input modules, for a total of three RCA line-level inputs and two XLR balanced inputs, for euro 1649.
Ragnarok 2 is available for immediate purchase at Schiit.com.